Moskinto Family Box
Regular price
Sale price
€9,95 EUR
Unit price
per
Sale
Sold out
Base price: 0,23 EUR / piece
Free from drugs & active substances
Plaster made of artificial silk with skin-friendly acrylate adhesive
Practical tin to take along
Package content: 42 plasters à 27 mm x 20 mm (18 x beige, 12 x pink, 12 x blue)
* The effect is not scientifically proven and is based on experience
Itching after insect bites?
Stick the MOSKINTO patch directly on the insect bite without scratching first. Experience has shown that the itching often subsides and may no longer be present after 20 minutes.* The patch can remain on the skin until it comes off on its own after about 4-7 days.
Do not stick on open wounds!
The plasters are made of artificial silk, they have a grid shape and are coated with a skin-friendly acrylate adhesive.The product does not contain any drugs & active ingredients. In case of bee stings, the stinger should be removed from the skin beforehand. (Do not use in case of allergic reactions!).
Are there any side effects?
Allergic reactions or side effects occur very rarely and are often due to current medication or increased, simultaneous alcohol or nicotine consumption. If in doubt, please consult your doctor or pharmacist.
*The effect is not scientifically proven and is based on experience.
Share
Material

Kunstseide und hautfreundlicher Acrylkleber
Größe

Pflaster: 27 mm x 20 mm
Family Box: 68 mm x 52 mm x 20 mm
Return

Der Artikel kann ohne Angabe von Gründen innerhalb von 14 Tagen auf eigene Kosten zurück gesendet werden.
GRATIS T-Shirt
Ab einem Bestellwert von 30 Euro erhältst du ein Moskinto Shirt gratis* dazu.
*Füge das Shirt in der gewünschten Größe deiner Bestellung hinzu und der Preis wird automatisch an der Kasse abgezogen.
SHIRT WÄHLEN
Häufige Fragen
Du hast eine Frage? Hier bekommst du die Antwort.
Fragen zur Anwendung
Die Wirksamkeit unseres Pflasters wird durch die besondere Struktur des Pflasters erreicht. Nach dem Anbringen wird die oberste Hautschicht leicht angehoben, wodurch Flüssigkeiten, beispielsweise das Gift einer Stechmücke, besser abfließen können*. Dadurch kann der Juckreiz nachlassen und verschwinden*.
*Die Wirkung ist wissenschaftlich nicht bewiesen und beruht auf Erfahrungswerte
Kann ich das Pflaster bei Wespenstichen anwenden?
Ja, du kannst unser Pflaster bei allen Stichen anwenden. Egal ob Bienen, Wespen oder Stechmücken.
Darf ich das Pflaster bei Babys und Kleinkindern anwenden?
Wir verwenden keine chemischen Wirkstoffe. Dadurch ist unser Pflaster besonders bei Kindern beliebt. Es kann auch bei Babys und Kleinkindern angewendet werden.
Sind Wirkstoffe enthalten?
Nein, unser Pflaster ist frei von chemischen Wirkstoffen.
Moskinto Mosquito Patch - The solution for itchy bites!
Free of drugs and active ingredients, a purely mechanical action stops itching and swelling subsides. This effect is achieved by slightly lifting the first layer of skin. Children are able to treat their insect bites independently with MOSKINTO. The plasters are offered in a practical box for on the way.
*The effect is not scientifically proven and is based on empirical values.
Properties of the patch.
Our patches are free of drugs and active ingredients and therefore ideal for children.

Whether camping, barbecuing, hiking or on vacation: with the small and handy Moskinto packaging, the plasters fit in any pocket.

Children are able to treat their insect bites independently with Moskinto. Sleepless nights or bloody scratched wounds wind in the summer months or the vacation season on the agenda.

Infants, toddlers or of course adults as well as pregnant women can use Moskinto. A perfect solution for the whole family!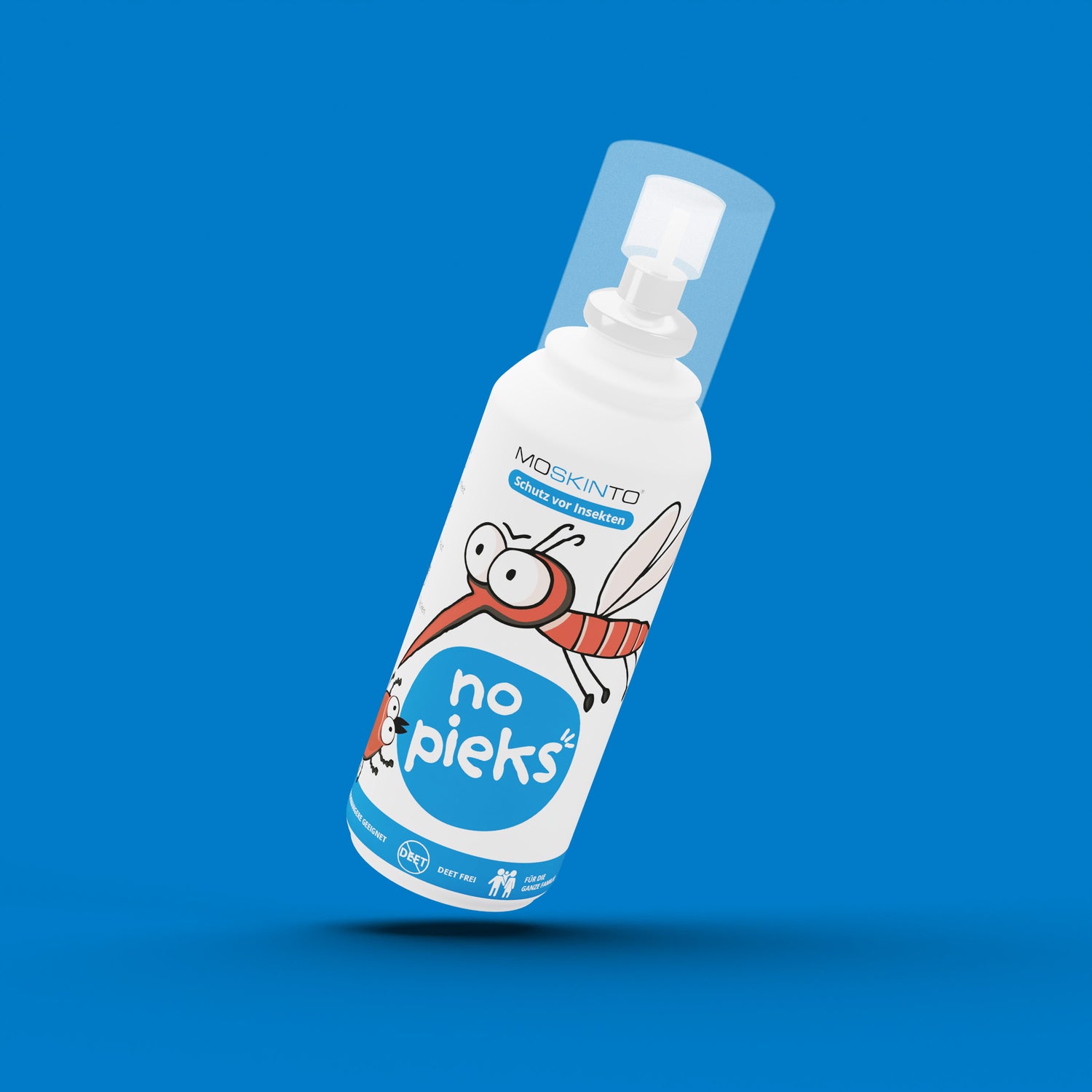 COMING SOON!
Available in a few weeks:
Moskinto No Pieks.

The new spray for mosquito repellent.
DEET FREE
Effective against mosquitoes, ticks, fleas and sand flies.
Sign up for the newsletter and find out immediately when No Pieks Spray is available.
JETZT KAUFEN